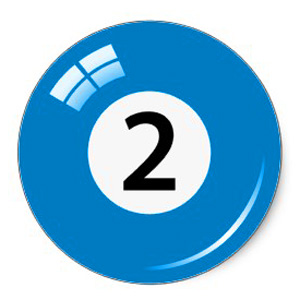 Numerology – Number 2, Two
Number 2 in numerology represents the moon, and unlike the sun represents the feminine qualities. 2 is the number one opposition. This includes the feminine, soft and romantic. On that date, births are smart, creative people, endowed with artistic abilities, and live a rich imagination.
Their strength lies in their minds, and in everything they are looking for more mental than physical satisfaction. In short, they are dreamers, who flying in their own spirit into the clouds, and not think about worldly life benefits. These people are by nature gentle and tolerant, and have enough strength and perseverance to put lives. They also are not very strong, so avoid hard work.
Emotional characteristics of number 2
These people are looking for a partner in spiritual communion. Their love is the root of mind, and they do not recognize the physical intimacy without spiritual intimacy. So these people a strong sexual drive is rather an exception. Physical satisfaction is always secondary – the spiritual. Such people sex is a reasonable cause emotional climax, and is not necessarily the culmination. They already feel happy if your partner is a spiritual intimacy. Whether or not this relationship growing into physical intimacy, they are not so important. Their marriage is happy, if that level of spirituality is the same. If they are married to a man who is physically stronger and mentally inferior, then experiencing frustration and depression looms.
Weaknesses of number 2 in numerology
These people are dreamers. Being a man of strong intellect imaginative, 2. date of born is naive and impractical. His creative abilities and talents of the inventor is very big, but he absolutely does not understand their thoughts and plans in life. Dreams are only dreams, and remains as such a person is unable to fulfill them, even if the means of physical weakness does not allow him to run. Come across an obstacle, he loses courage and generally feel paralyzed when conditions are not ideal. And then, quite naturally, comes disappointment, because success is almost always away from them, because they lack the perseverance and initiative of their own ideas. After all, these people lose faith in themselves, they were taken over by anxiety, depression and pessimism.
People of number 2 in relationship
On that date, it is essential that the newborn to about they would have the same degree of spiritual people. Their strength lies in the brain, so they need such companions, which formed the spiritual contact. It is their primary need. Interests may be different, may have different views about things, but above all, it takes second date-born partner, is intelligence. Since these people are not able to implement their ideas, they rarely succeed in life, making it unsafe. They need a partner who inspires confidence in the forces, one that invigorates, bringing, they themselves can not.
These people are very sensitive, so others should be careful to call them to inadvertently offend. Being unsafe, they quickly offended and all perceived as a self-oriented. Do not lead them to this possibility.
Since these people lack faith in themselves and they do not succeed, they are restless and always live in an atmosphere of uncertainty. They inevitably become your mood and temperament of the victims. Partner need peace and sensibility, in less successive days they need comfort.
Number 2 people are not sexually because of his physical delicacy. Their partners may not be of great sexual demands. Differences in temperament always lead to trouble, so the partner must be more mentally than physically oriented.
The lucky numbers and dates in numerology
The lucky numbers and dates – number two gets the best people on the same day the newborn, the 7th, 16th, 25th (Digit sum is 7) The date of births, the 9th, 18th, 27th (Digit sum is 9) the date of births.
The unlucky numbers and dates – the 1st, 10th, 19th, 28th (Digital sum is 1), and figure 28 is two, and the negative features are softened. All other figures are neutral.
Bad months – January, February and July. During this time, take care of health.
Happy days – Sunday, Monday, Friday.
Lucky stone and lucky colors
Lucky stones – pearls, moonstone, emerald, and all the green gems. They are worn in contact with the body.
Lucky colors – green, all shades from light green to darker green, and cream and white. Should avoid dark colors, especially from black, purple and crimson colors.
Diseases – liver and digestive tract diseases (non-gastric digestion, and, possibly, gastric ulcer, which contribute to spiritual experiences and depression). The diet should be turnips, pumpkins, cucumbers, melons.
The recommendations for numerology 2
Against date 2-nd of born people should be treated kindly and tenderly. They are able to lead yourself to a deep depression, to make all others suffer. They constantly would make art to procrastinate during reverie, and depression. They seek to develop include logic power to, through their sharp minds of all were sober and not see all the dark colors. If these people that do not expect them to frustration and even greater suffering.